If you Love everything British and need useful Information about the british foods, products or about the shoppe in orlando and our Rather Jolly Tea company and our retail and wholesale websites, then you have come to the right place.
for further information about where we are located in Orlando, Florida and just general information like our hours of operation and shipping and returns policies and terms follow the drop down links above which will help you get to the correct info that you require.
Below is some general information of the products and gifts that we sell here at the British Shoppe and Rather Jolly Tea store.
Gourmet Foods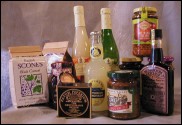 When only the best will do. Superior quality British gourmet foods. What would you prefer English scones, muesli cereals, chutneys, cordials, relish, mustard and marmalade. Whatever your choice we know that you will enjoy the quality of our gourmet foods.
We have something to wet every appetite from leading suppliers like Geo. Watkins, Opies Pickles, Patnum Peperium, Lloyd Grossman and Macleans' Highland Bakery and the NEW Stahley's Haggis!
Delicious British Foods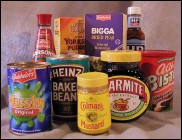 This selection represents some of the most missed and loved British foods: Devon Clotted Cream & Scones, Ambrosia, Birds, Batchelors, Colemans mustard, Heinz baked beans, John West, Haywards, Shippams, Tate & Lyle, Little Pickle & Spice chutneys and relishes, Branston pickle, Bisto, Marmite, HP sauce, Daddies sauce, Scots porridge oats, Farleys Rusk and Paxo Sage & Onion stuffing and we just added Marmade which lets you make your own marmalade along with an expanded range of Indian foods from Geeta (chutney, relish, paste & sauces). NEW Stahley's Haggis!

So if you are a missing your Heinz baked beans on toast (a British custom), your Branson pickle or just can't live without HP sauce then you have come to the right place. Buy Now!
Biscuits (Cookies)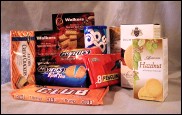 Where would the British be without their biscuits, hungry perhaps? Whether it is McVities (digestives), Jacobs or Walkers the British serve their biscuits with tea as a snack at any time of the day. Some even 'dunk' (dip) their biscuits in the tea! Try our yummy Scottish delights from Tunocks. NEW Maclean's Highland Bakery.

Try our Ashbourne White Range and Nairn's oatcakes and cookies, some of which are organic or wheat free - all are tasty!
Jams (Preserves) & Marmalade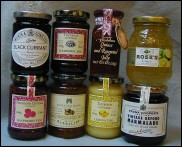 We have delight in presenting preserves (jams) and marmalades from some of the finest and best established British food establishments. Wonderful and appetizing delights from British food, tea, frozen, gifts, Frank Coopers, Robertsons, Roses, Thursday Cottage and Tiptree (Wilkin & Sons).

A special mention goes to Tiptree's Little Scarlet Strawberry preserve (jam) which is unique to Tiptree and renowned for its intense flavour. The tiny berries are grown at the Tiptree farm and used fresh from the fields. Delicious! Buy Jams Now!
British Candy (Sweets) & Chocolates

Mars Bars, Cadbury's Flakes and Fry's Turkish Delights are just some of the candy that bring back memories of a British childhood. The British 'sweet tooth' is reflected in their chocolates that are sweeter and creamier than the American counterparts and in indeed in their other candy.

For those who have never experienced these British candies (sweeties), then Cadbury's Dairy Milk is a great place to start or discover the unique Bassett Liquorice Allsorts a selection of soft candies that all feature liquorice. Our British boxes of chocolates selection features Milk Tray, Roses and Quality Street you will find that these will be popular gifts as wells as tasty treats for yourself! Buy Now!
Indian Food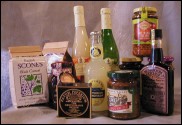 We have the best of Indian foods for you from four great vendors. Choose from Ashoka, Geeta, Patak's and Sharwood's. See Coronation Chicken Recipe using Patak's curry paste.


Beverages

(Drinks)..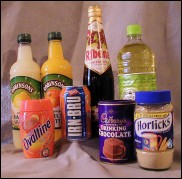 British beverages (drinks) can be very different from those offered in the USA. An example of this is Cadbury's Drinking Chocolatewhich is not a cold served pre-mixed Chocolate milk drink but rather a chocolate powder that you add hot water or milk to. Try mixing it with pre-warmed hot milk and it is yummy.
Other top British favorites are Lucozade the very first isotonic drink in various flavours, Horlicks, .Ovaltine and Ribena and the alternative tasting White's Lemonade or how about some Robinson's Barley Waters the pre-mixed drinks that are so often seen on the drinks carts at Wimbledon? Great drinks, however we cannot guarantee any improvement in your tennis!
Buy Now!
English Tea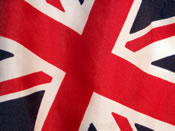 Look no further for English tea from Twinnings, Suttons, Typhoo, PG Tips, Taylors, Brodies, Heath & Heather, D.J. Miles, Brook Bond, Lifeboat and Glengettie. Great teas, great cuppa! Other tea pages offer best of English, Scottish & Welsh teas. Try The British Gourmet Tea Company London Breakfast, Queen Anne and Royal blends. To truly appreciate the uniqueness of these fine English teas, sample them and you will see why tea connoisseurs reach for their choice of steaming cup to warm up, relax and delight in their rich flavor.