Twinings Tea
Tea is more than just a drink. It's a way to calm down, to wake up, to spark an idea, to share a story...
Twinings story started in 1706. That's when Thomas Twining first set up shop on London's Strand. In the age of coffee shops, he was the man who loved tea and worked hard to bring it to the people.
More than 300 years later, the passion's still there and so are Twinings. They still sell tea from Thomas's shop, and they still work hard to bring new blends to tea lovers. Now they have over 100 varieties, and their teas are drunk all over the world.
True to Thomas Twining's exacting standards, they only blend the finest tea from the finest tea gardens. Their expert blenders – and they've got more of them than any other company – taste more than 3,000 cups of tea every week. So you can be sure the next cup you taste will be every bit as good as the one yesterday or the day before.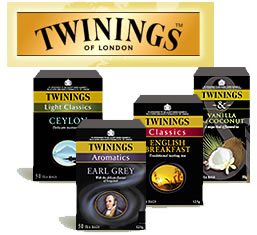 Customers in more than 100 countries enjoy Twinings products & not just the popular favourites, new products such as fruit and herbal infusions, aromatic teas, and iced teas are delighful to the taste buds. These fresh flavours reflect a worldwide trend towards a healthier and more varied lifestyle.
The new flavours are as successful as the traditional ones because Twinings prepare them using the skills that have been acquired over three centuries. After quenching thirsts for so many generations, no one knows better than Twinings how to deliver a drink that's in perfect condition, thats why in 1972 Twinings became the first tea company to win a Queen's Award for Export. Every package of Twinings Tea as Her Majesty's seal.